Candid Interview with Our Newest Judge, Hon. Virginia George
On December 22, 2017, California Governor Edmund G. Brown, Jr. announced the appointment of 33 California Superior Court Judges, including one in Contra Costa County: Virginia M. George. Judge George was officially sworn in by Presiding Judge Jill Fannin on January 29, 2018, and she began her assignment in Department 30 in the Richmond Courthouse. Judge George graciously took time to answer a few questions I asked of her for this "Women and the Law" themed Contra Costa Lawyer. Her insightful comments are as follows: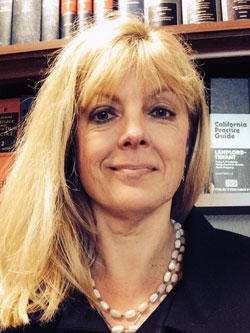 Wu: Tell us about why you became an attorney
Hon. Virginia George: At the time I applied for law school, I was primarily interested in becoming an attorney so that I could try a case in front of a jury. It seemed like a good fit for me as I was a musical performer (piano player) and was comfortable in front of an audience, and I enjoyed arguing a point. My passion evolved towards criminal law and although I had an internship with the Public Defender's office through my law school at the University of San Francisco, I felt like I was more suited for being a prosecutor. I wanted to be part of the criminal justice system and enjoyed a number of my classes at law school such as criminal procedure, evidence and trial advocacy.
Wu: What were some challenges you faced as a female attorney (and one of the few in your early jobs at the DA's office)?
Hon. Virginia George: I first joined the DA's office as a law clerk in the mid-1980s. There were not a lot of women attorneys in the office at the time, and myself and my female colleagues were somewhat of an anomaly. Because of this, some of the older, predominantly male attorneys did not take us seriously, and that was a little disconcerting. At the time, the office was very male dominated and although the younger female attorneys were smart and articulate, we were few and far between. I think that threw some of the older attorneys off. Gradually as time progressed, more women attorneys came through the ranks and became the norm. Also, in the beginning, very few women were elevated to supervisory positions. Now, it is quite different.
Wu: How have opportunities for women in the law changed over the years?
Hon. Virginia George: There's no question that opportunities for women have expanded significantly over the years. In my view, this is due in part to the influx of women graduating from law school, passing the bar exam and getting into the work force. Whereas before certain positions were "saved" for men, now those positions have opened up and women have been promoted and placed in more prominent, decision-making positions such as partners in private firms and supervisors in government careers.
Wu: If you could time travel back to your law school days, what three tips would you give yourself about having a successful legal career?
Hon. Virginia George:
Don't worry about the bar exam. If you do the work and study hard, you'll make it. It's an endurance test just as much as an academic exam.
Trust your instincts in pursuing your legal career. Don't be afraid to try something outside of the box. If it doesn't work, go in another direction.
Build and maintain your reputation. It's as precious as gold. Once you lose it, you can rarely get it back.
Wu: What advice do you have for attorneys who may wish to become a judge one day?
Hon. Virginia George:
There's no need to rush to be appointed as a judge. Develop a solid, well-rounded legal career. Maintain your knowledge of the Evidence Code, even if you don't think you'll ever see the inside of a courtroom.
Wu: Do/did you have any women attorney "mentors" or role models, and if so, who are they?
Hon. Virginia George: I was lucky enough to have many women attorney mentors and role models through the years. They consist of prosecutors, public defenders, judges, law professors and private practice attorneys. Each one of these women shaped me into who I am today and the positive impact they each had on me was invaluable. I don't want to embarrass them by naming them outright, but I believe most, if not all of them know who they are. I remain indebted to them.
Wu: Thank you Judge George! I know you will be an incredible asset to the bench, and will serve the public well. Congratulations!