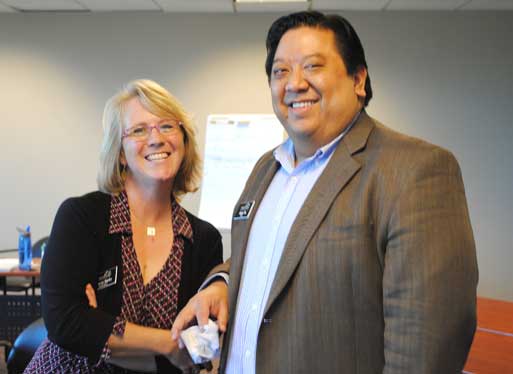 Theresa Hurley – Guiding the CCCBA to Greater Heights
The year 2019 is a very significant year for the CCCBA!  It marks the Association's 85th anniversary, and we will host our 25th annual MCLE Spectacular this November. 
Over the years, the CCCBA has been fortunate to have strong leadership to guide it through good times as well as through tough issues.  Though board members, section leaders, and other volunteers come and go, the CCCBA has enjoyed steady leadership in the Executive Director position.  Today, we are led by Theresa Hurley, our Executive Director for five years.  Most members know the incredible dedication Theresa exhibits day after day while working with attorneys (not an easy feat).  She does so with patience, grace, and a positive outlook.  In addition, Theresa continues to pursue ways to better herself and the CCCBA.  Below are just some of the great activities, achievements and recognition Theresa, the CCCBA staff, and the Association has earned under her leadership.
Last year, Theresa earned the Certified Association Executive designation from the American Society of Association Executives. This prestigious professional certification for association executives has been around for over 50 years and has been earned by only 4,332 people across the globe. It requires work experience, five years of professional development, passing a rigorous four-hour exam and an ongoing commitment to uphold the ASAE Standards of Conduct. It's the gold standard for association executives, and Theresa made it a priority to achieve it.
Theresa also is the President of ECLA, Executives of California Lawyers' Associations. ECLA is like a who's who of the folks who run bar associations all over the state. They share common issues, successes and participate in education about leadership and management. There's a lot of mentorship involved, with newer EDs getting support and help as they enter the field. According to Tiela Chalmers, Chief Executive Officer and General Counsel of the Alameda County Bar Association, "Theresa has been really active as a mentor, reaching out to help the newer folks, and also advocating for small bar issues with the State Bar and the ABA." ECLA gives executives a higher profile with the legal community and promotes the executives as partners' in the substantive work of the organized bar. Theresa has been a member of ECLA since 2014 and joined the ECLA Executive Committee two years ago. 
She is always willing to share what she has learned with others in the profession, and has been interviewed for several ABA articles:
Theresa will speak at the National Association of Bar Executives annual meeting this month in San Francisco.  She will be a panelist discussing ways to reward employees without big budgets, in the program titled, "Policies and Perks That Show It's Not (Always) About the Money." 
Additionally, under Theresa's leadership the CCCBA has won two awards for communications projects.  In 2017 the Contra Costa Lawyer magazine was honored by the National Association of Bar Executives' with a Luminary Award for Best Regular Publication in the small bar category, and in 2018 won a Luminary Award for graphic design, again in the small bar category.  Special thanks also go to Carole Lucido, the CCCBA's Communications Director, for her work towards these achievements as well.
All of these items are above and beyond her already full plate with constant CCCBA committee meetings, events, guidance for the Board, communications with the Bench, and the hundreds of other tasks, large and small, Theresa manages on a daily basis.
Needless to say, the CCCBA is in great hands with a proactive leader and a collegial and dedicated staff, many of whom have worked at the CCCBA for decades.  With this type of team in place, the CCCBA is poised to continue to excel for another 85 years to come!