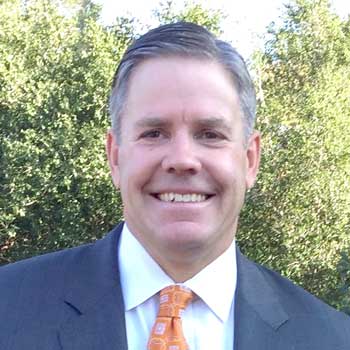 Interview with Judge John Devine
On January 2, 2019, former Governor Jerry Brown appointed John Devine to the California Superior Court, County of Contra Costa. Judge Devine, our newest judge, filled the vacancy created by the retirement of Judge Judith Craddick. Judge Devine is currently assigned to Department 9 at the Pittsburg Courthouse. Prior to his appointment to the bench, and since 2011, Judge Devine served as a supervising Deputy Attorney General at the Office of the Attorney General. Before that, Judge Devine was an associate at Watson and Lanctot LLP and served as a Deputy District Attorney at the Marin County District Attorney's Office. I want to thank Judge Devine for his time in sharing more of his background to the Contra Costa County legal community.
Wu: Thank you, Judge Devine, for letting all of us get to know more about you. First, tell us about why you became an attorney.
Judge Devine: I gained some knowledge about the legal profession at a young age. My grandfather Preston Devine served as a trial court judge in San Francisco for fifteen years, after his appointment by Governor Earl Warren in 1947. He was later appointed to the California Court of Appeal by Governor Pat Brown. I saw firsthand his intellectual curiosity and personal integrity. I admired him very much. This certainly generated my initial interest in the legal profession, which then continued.
Wu: I'm sure you must have learned a great deal from your grandfather's experiences. After you decided to go to law school, what helpful advice did you receive from your law school professors?
Judge Devine: At the University of Oregon Law School, I took courses from diverse faculty members. They were demanding, but reasonable. Dean Dave Frohnmayer had formerly served as Oregon's Attorney General and successfully argued six cases in the United States Supreme Court. I listened to his precepts, for example, his encouragement to think issues through. I also watched his actions, which constantly emphasized the professionalism required for the practice of law. Margaret Paris, another professor and later Dean of the law school, highlighted that due to the profound impacts of the law on people, those within the legal profession must always act conscientiously, even when the matter might otherwise appear trivial.
Wu: After law school, and trying to make use of the insight you received from your grandfather and law school, what were some of challenges you faced as a young attorney?
Judge Devine: I worked as an associate at Watson & Lanctot, a five-attorney firm in San Francisco. Litigating cases with a small law firm brought several challenges. I relied on the courts many times to keep the playing field level for my clients. I also recognized the need to make reasonable and prompt judgments, attempting to ensure a sound process for my clients to remedy their disputes. Many clients did not have the resources for any protracted litigation. As an associate attorney at a small firm, I necessarily had a number of different duties.
Wu: Eventually you left your practice at a law firm and joined the government. What's most memorable about the time you spent with the California Attorney General's Office?
Judge Devine: My work at the California Attorney General's Office, primarily in civil lawsuits, brought me face-to-face with people throughout Northern California from Monterey County to Del Norte County and from Tuolumne County to Shasta County. They ranged from a high-tech entrepreneur to a prison inmate. I learned that some people may believe that courts and attorneys invade their personal or professional spheres. Other people might think of the courts as a desirable place, either as the first or last option, to resolve their disputes. All these people hoped that the legal system would bring some light to their lives, apart from the darkness of a current situation. Mindful of this, I thought my efforts should be directed toward an objective and effective resolution of disputes. And on a final important note, I considered myself very fortunate to have worked with a great team of colleagues there.
Wu: When you are not working, what do you enjoy doing?
Judge Devine: Away from work, I enjoy backpacking in the Sierra and swimming in San Francisco Bay.
Wu: Thank you, Judge Devine, for sharing your background and experiences. We are lucky to have you on our county bench!